Regular price
€18,40 EUR
Sale price
€17,48 EUR
Unit price
per
Sale
Sold out
Share with your friends and family
View full details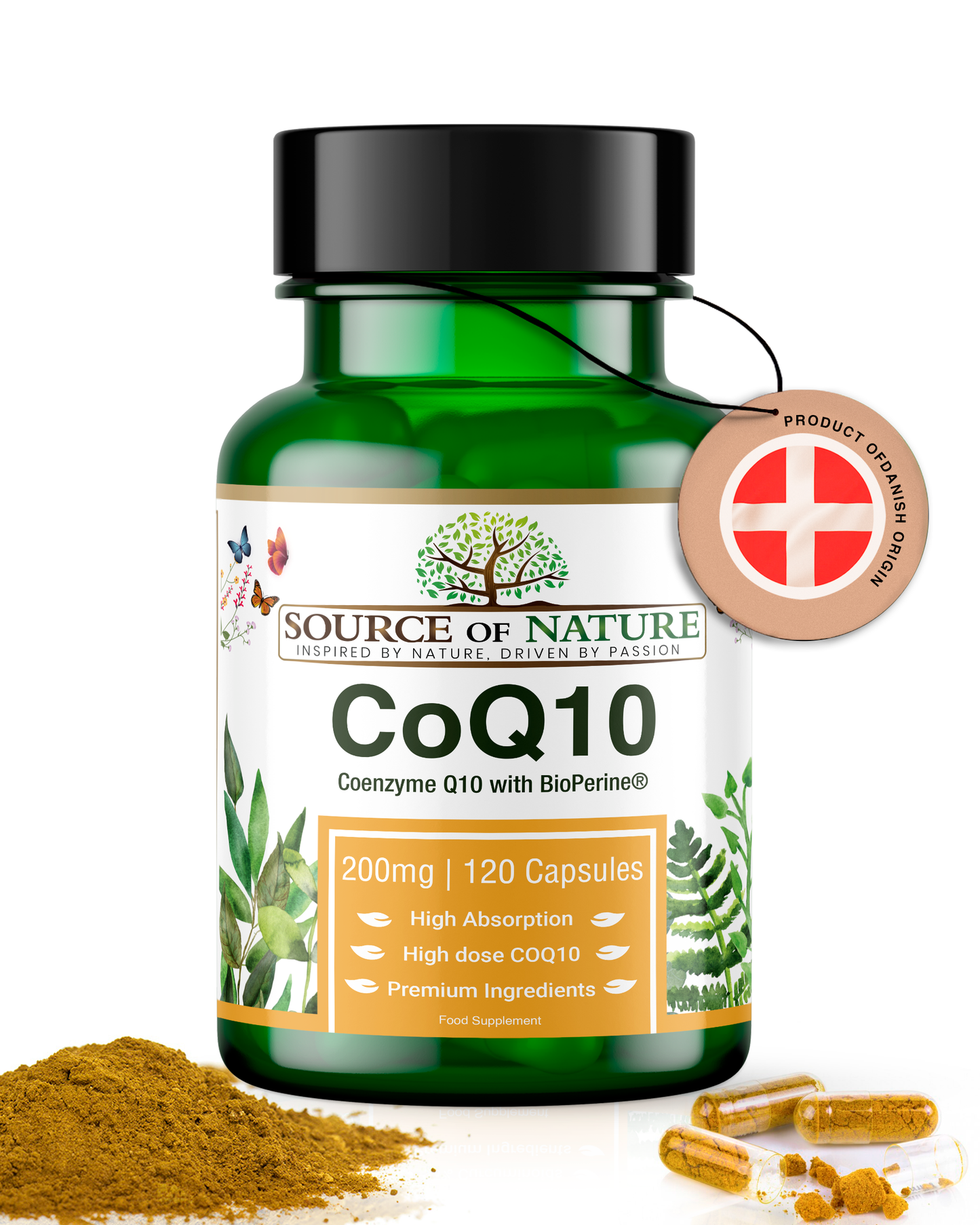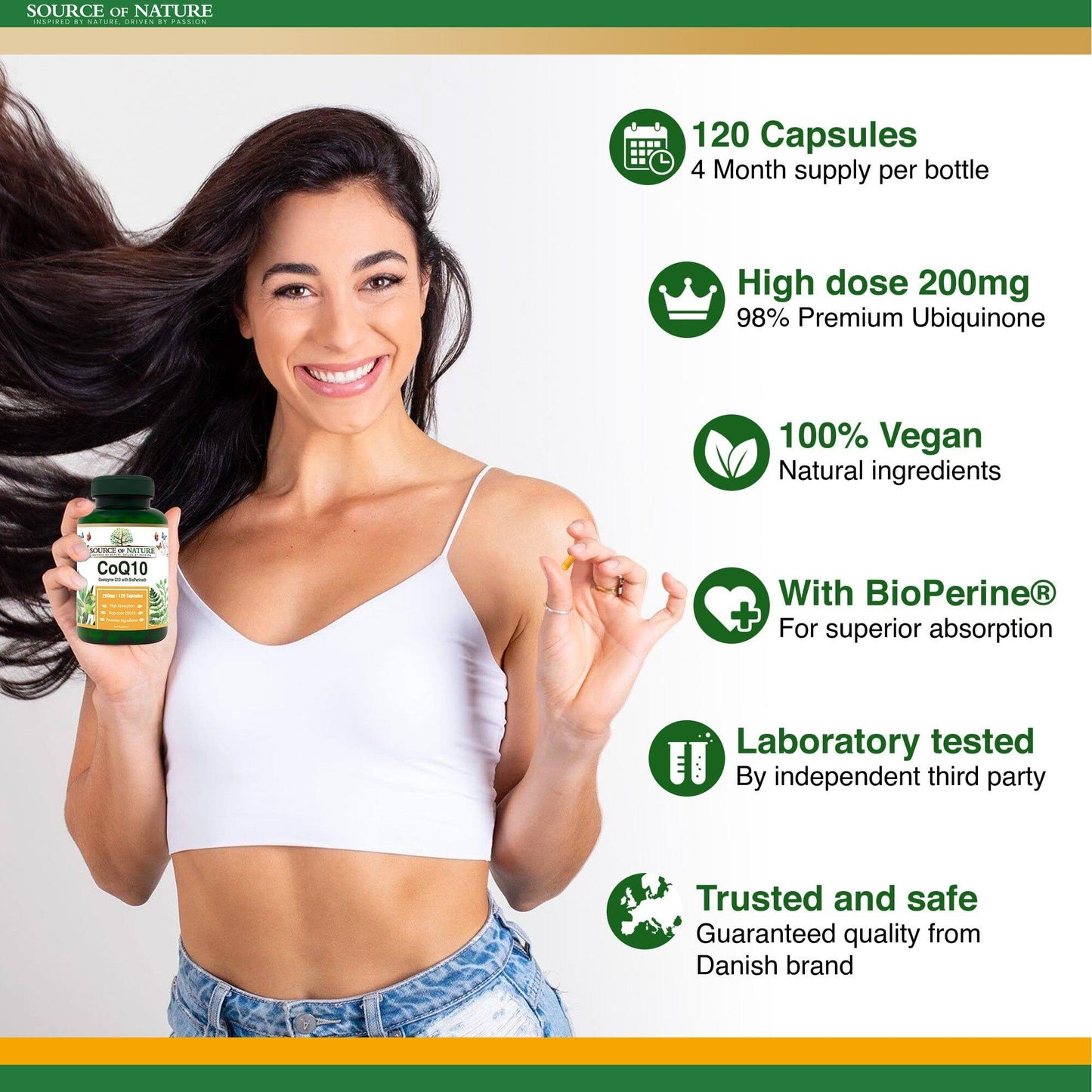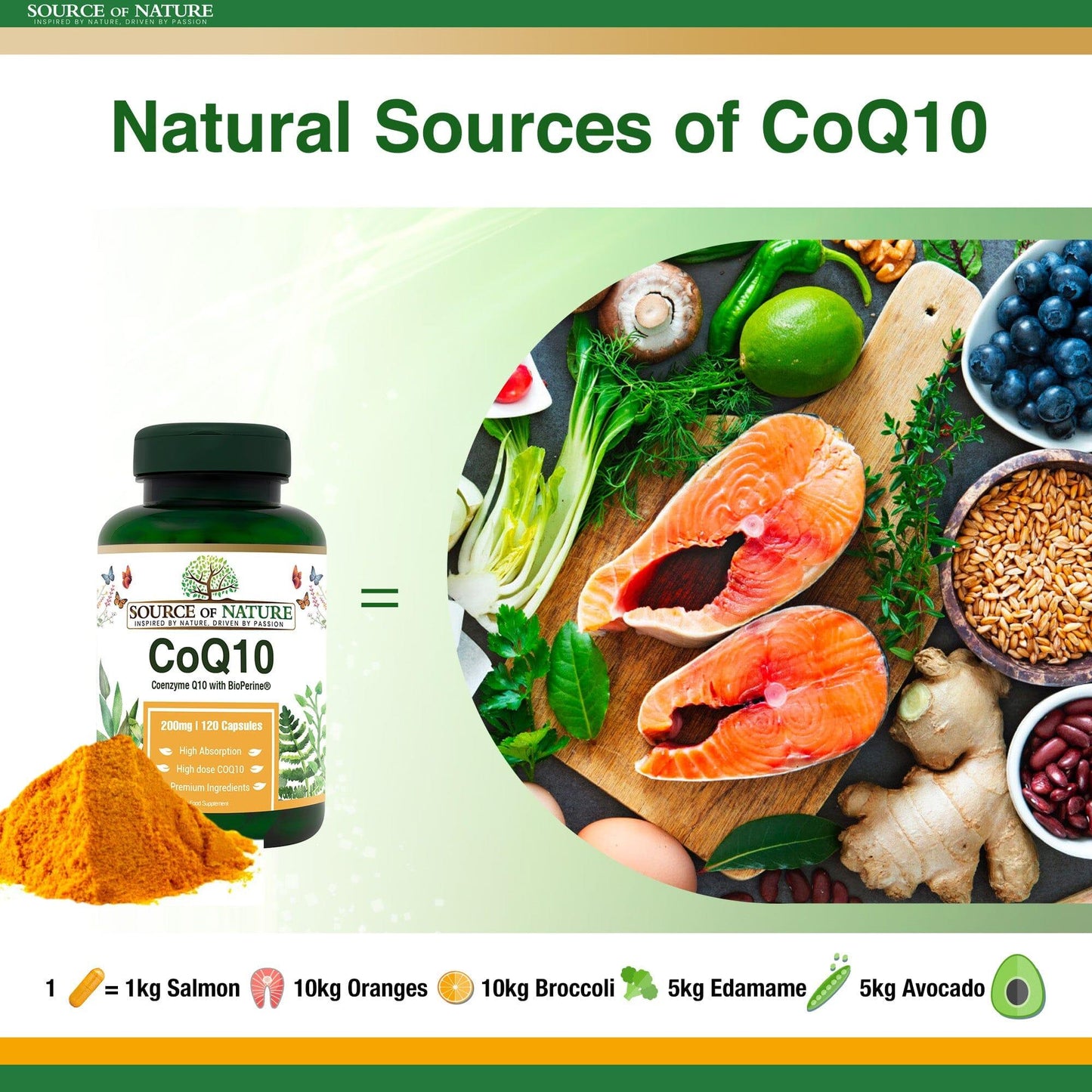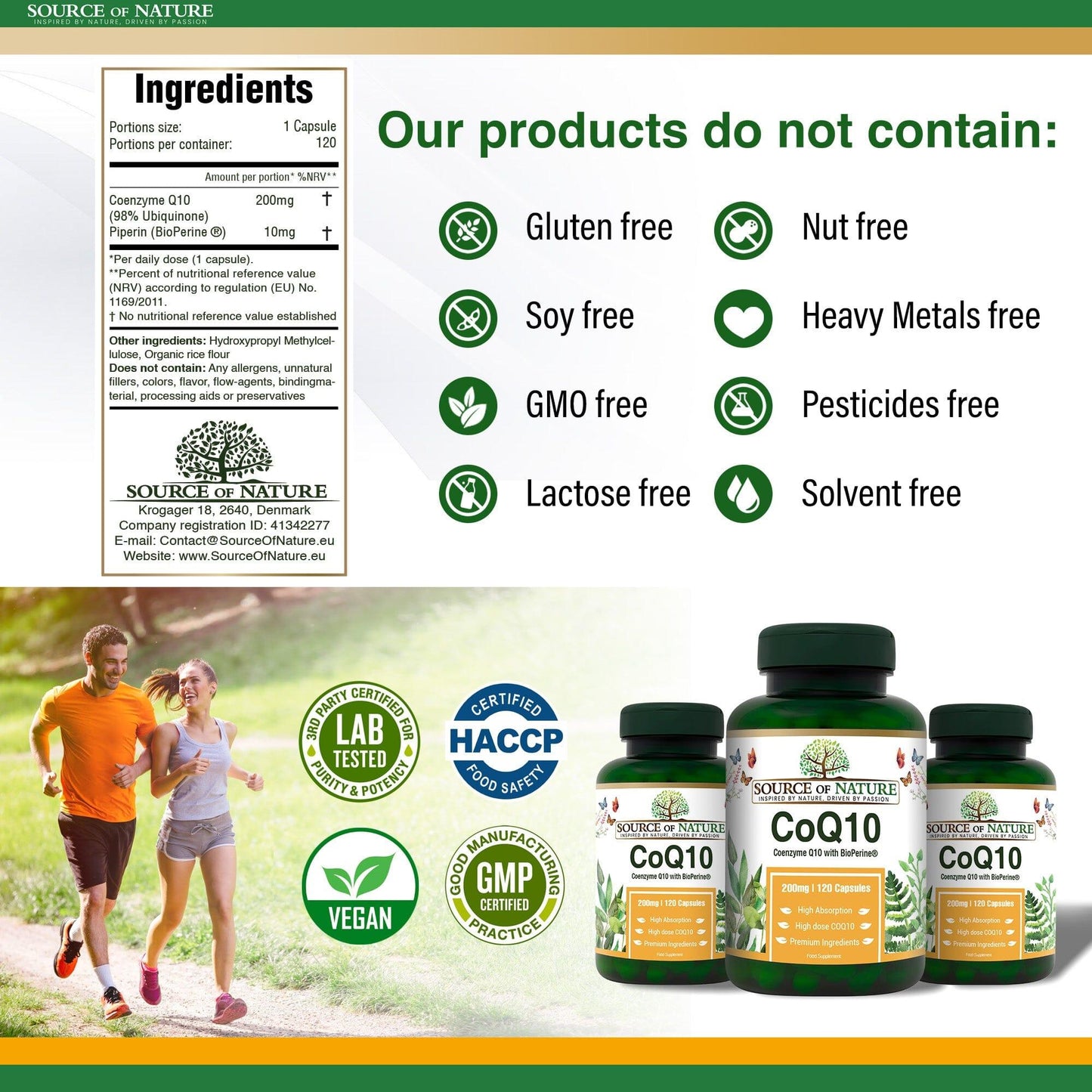 Facts about the product

120 Capsules with 200mg Each: Each capsule has a high dose of high-quality Coenzyme Q10

Premium Ingredient: CoQ10 as Ubiquinone which has been naturally fermented from corn

Highest Purity and Bioavailability: 98% Pure Ubiquinone with added BioPerine® (Black Pepper Extract)

Suitable for Vegans: Our CoQ10 is vegan friendly and absolutely cruelty free

No Unnatural Additives: Laboratory tested and free from preservatives, fillers, heavy metals, PAH, emodin, allergens and pesticides
Coenzyme Q10
Coenzyme Q10 (CoQ10) is a natural, vitamin-like compound naturally found in all cells throughout the body. It comes in two forms (ubiquinone and ubiquinol) which the body is able to create from each other as needed. CoQ10 is most abundant in organ tissue such as the heart, where it has most of its functions. CoQ10 allows the body to effectively create ATP, the basic source of energy in the body and supports effecient transport of oxygen into cells. Research indicate that CoQ10 has a beneficial effect on many areas of the body. Furthermore, CoQ10 is a strong antioxidative which can help eradicate dangerous free radicals.
More details about Coenzyme Q10
What is CoQ10?

Description
Source of Nature CoQ10, a food supplement based on natural sources.

What is COQ10?
CoQ10 (short for Coenzyme Q10) is an essential element for many daily functions and is required by every single cell in the body. CoQ10 works as an antioxidant that protects cells from the effects of aging, CoQ10 has been used in medical practices for decades, especially for treating heart problems.
A Natural Product

100% Nature
CoQ10 is a strong antioxidant naturally found in fat fish, vegetables such as broccoli and nuts and seeds. CoQ10 is naturally occurring throughout the body but most abundant in organs such as the heart, liver and kidney where it supports an efficient metabolism and protects against dangerous free radicals. Our CoQ10 is naturally fermented from corn and formulated with BioPerine®
Superior Bioavailability

Unique Formulation
The naturally fermented CoQ10 is much more bioavailable than comparable products but much of the active ingredient is still lost in the stomach. We have formulated this product with 'BioPerine®', a type of Black Pepper Extract that can increase blood serum levels significantly. Read more aboutBioPerine® here.
Pure, Safe and Vegan

Guaranteed Purity and Safety
All of our products are laboratory tested and verified as completely free from PAHs, Emodin, Heavy Metals(e.g. Cadmium, Mercury, Lead), Organic solvents e.g. toluene, methanol, diisopropylamine(DIPA), Allergens and Pesticides.

No Unwanted Additives
Absolutely no gluten, GMO, dextrose, preservatives, soy, lactose, histamines or other undesirable compounds.

100% Vegan
Our ingredients are derived from natural sources and are 100% vegan.
How to take COQ10?

Suggested use
It is recommended to take 1 capsule per day with breakfast.

Precautions
Food supplements should not be used as a substitute for a balanced diet. Do not exceed the recommended daily dose.

Keep out of the reach of children.

Store in a cool, dry place, protected from sunlight.
Premium Quality

98% pure CoQ10 and no unwanted substances

High dose

200mg CoQ10 + 10mg Piperine for optimal effect
Superior Value
High quality ingredients, superior absorption, 120 capsules, high dose... Simply a great value product.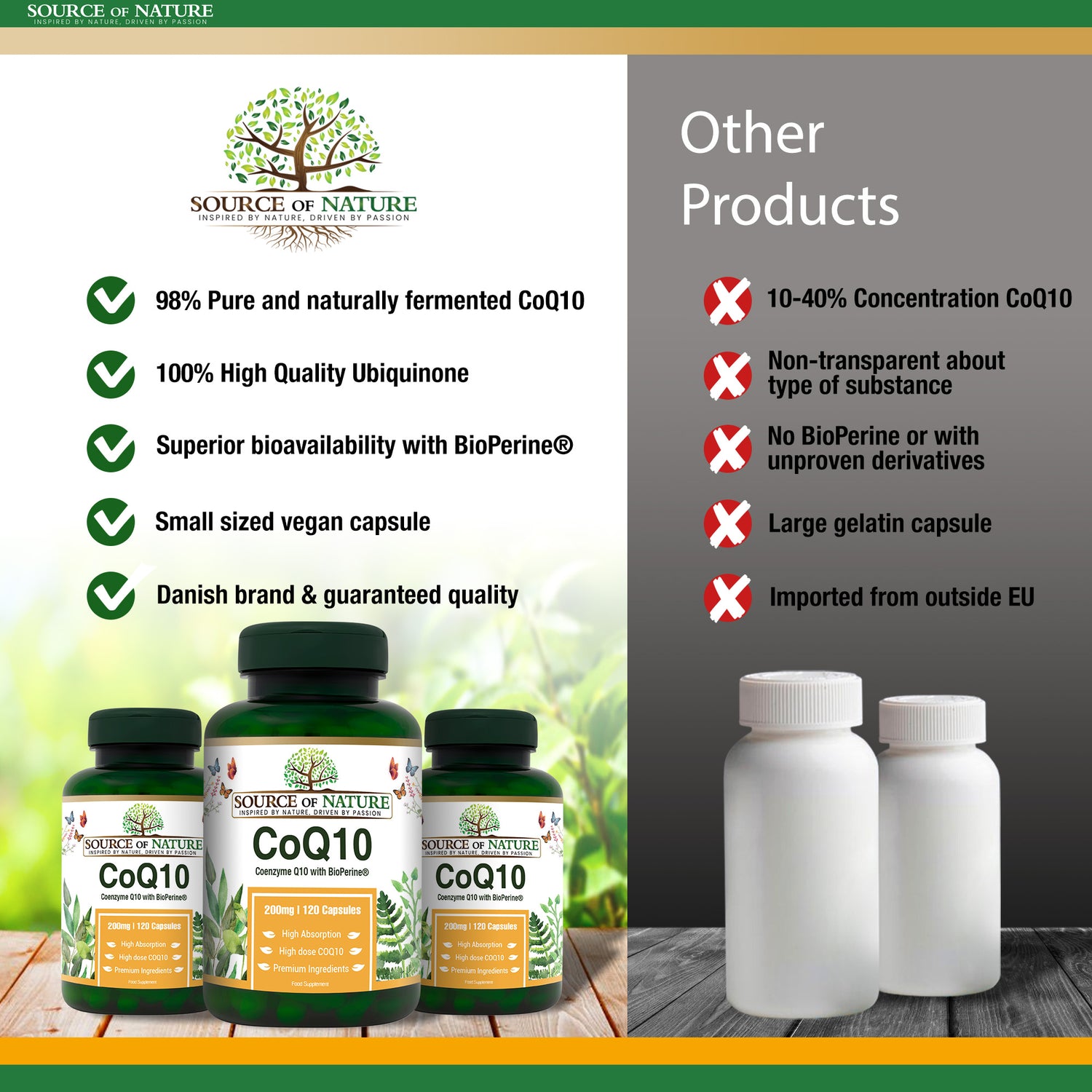 Beating the competition
No need to perform product research and background check on brands. Our product consistently beat the competition at every turn.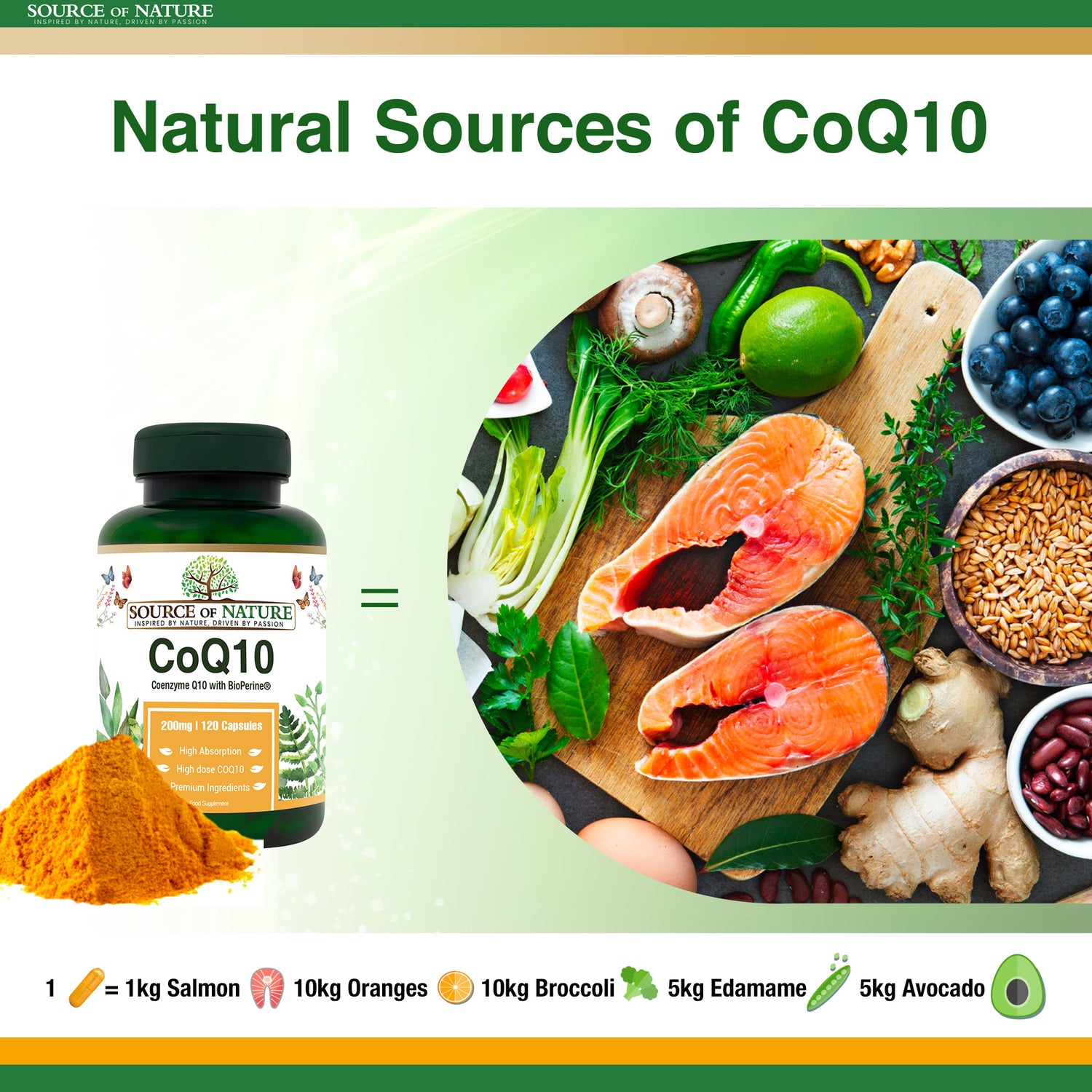 Natural source of CoQ10
CoQ10 is found in a few types of meat and vegetables. Few get enough through their diet.
The obvious choice
Source of Nature® CoQ10 deliver on the areas that matter.
No nonsense
All of our products are produced without any unnatural or unwanted additives. Just as nature intended.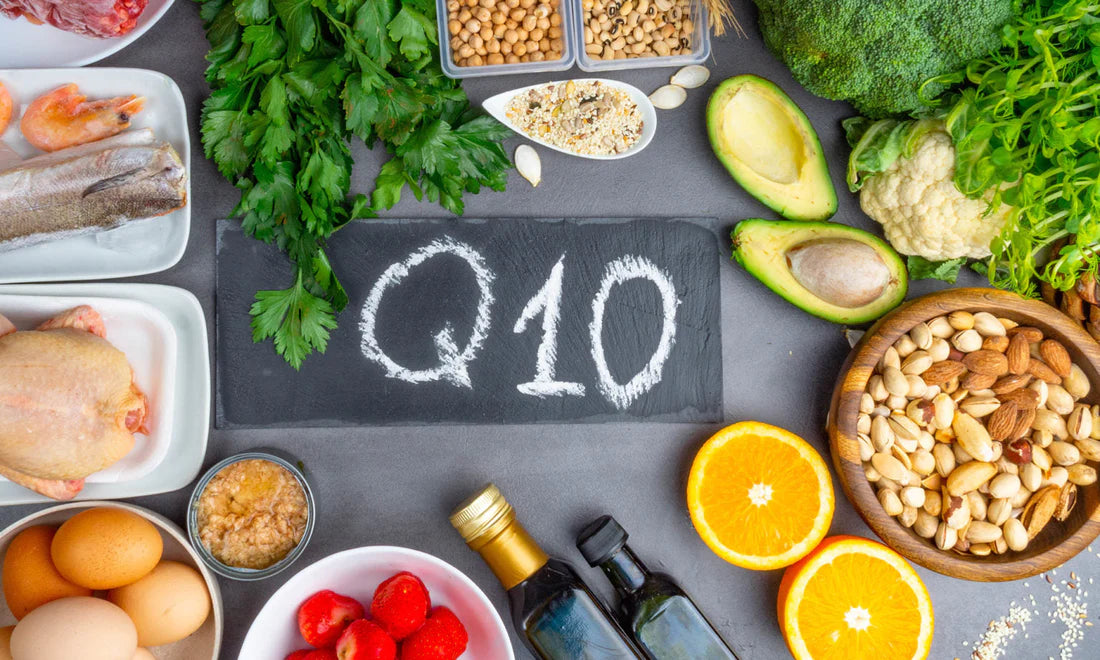 Want to learn more?
Read our blogpost on CoQ10:
To blogpost
Share with your friends and family
Must if you take statins
If you take statins for blood pressure like I do, then supplementing with CoQ10 is a must as the medication depletes CoQ10 in the body.
This is a high quality product. its the right type of coq10 and they added piperine for better absorption.
Best antioxidant
Very pleased with the product.
Fever heart palpitations easy to swallow
I bought this CoQ10 because I have had increasing number of heart palpitations over the years. I think because of stress on the heart and I read that CoQ10 increases oxygen transfer to the heart which could help. I have been taking it for some weeks now and I think that I have had fewer incidents than before so it is absolutely doing something! Very happy with the results and i hope it will get even better with time.
I am also SO glad that these capsules are so small compared to other brands. So easy to swallow.
Vegan and high quality CoQ10! (Ubiquinone)
So many companies are hiding the real mg of CoQ10 in their product and also where it comes from. This company is straight forward with their CoQ10 and states that it is truly 200mg of Ubiquinone in each tablet and that it comes from Corn and not animal-derived or synthetic as some... Good price considering the quality of the ingredients and the added peperine should make the product more bioavailable. Received the product in 2 days.