Regular price
€14,39 EUR
Sale price
€13,66 EUR
Unit price
per
Sale
Sold out
Share with your friends and family
View full details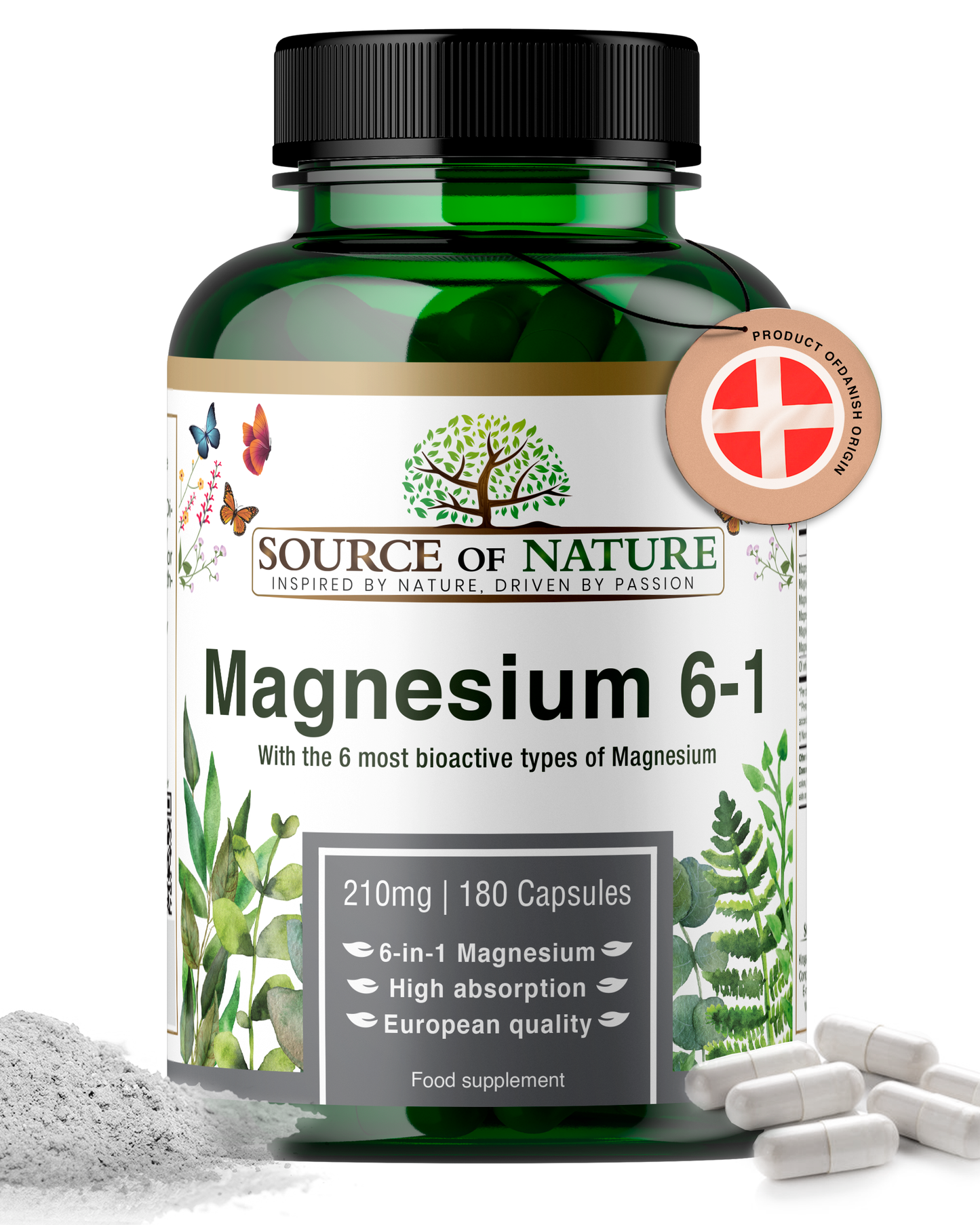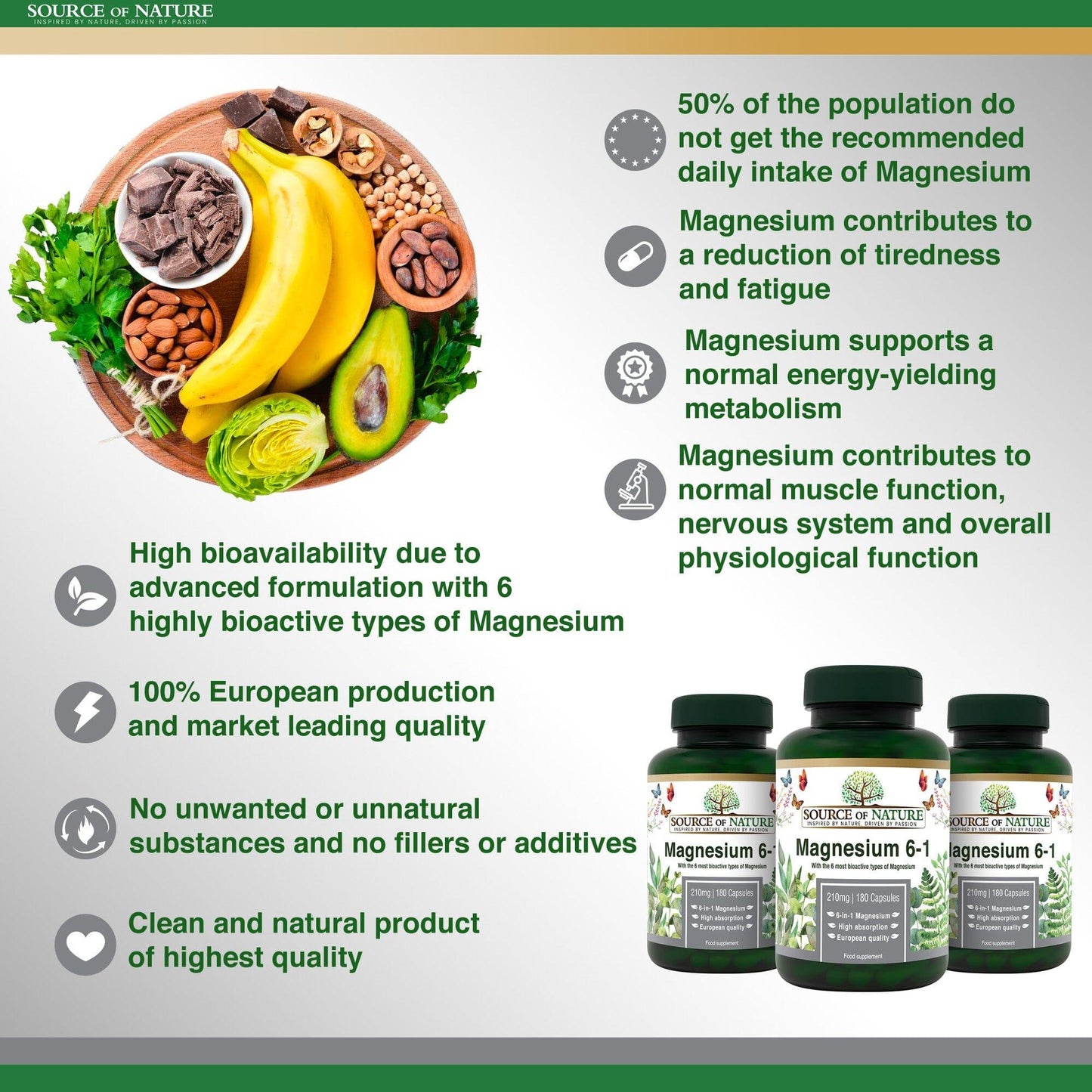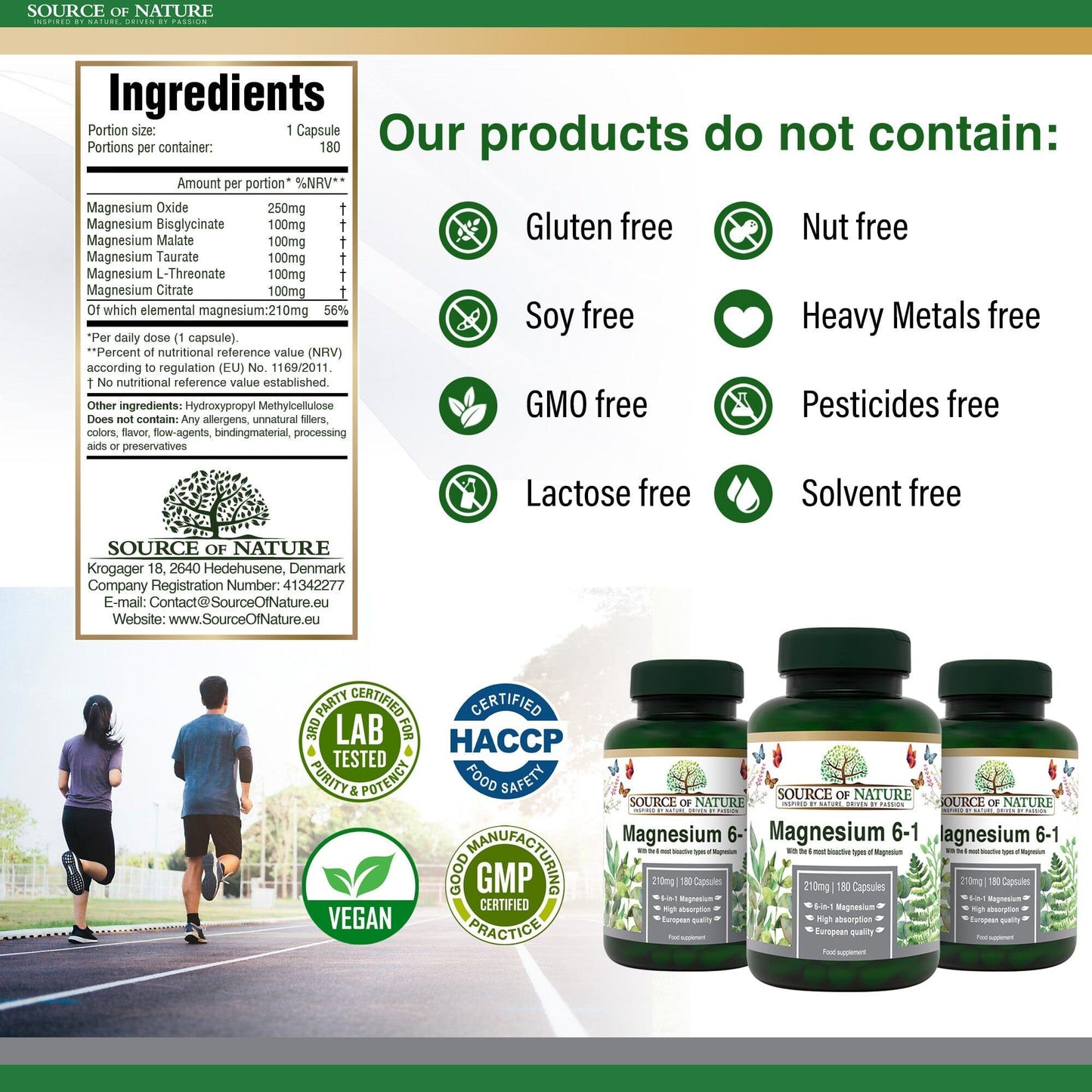 Facts about the product

180 Capsules with 420mg Each: Each serving contains 420mg of Magnesium (2 capsules)

Premium and Comprehensive Complex: Formulated with the six most bioavailable types of magnesium

100% Natural Product: The Magnesium is obtained from high quality and natural sources

Suitable for Vegans: Our Magnesium is vegan friendly and absolutely cruelty free

No Unnatural Additives: Laboratory tested and free from preservatives, fillers, heavy metals, PAH, emodin, allergens and pesticides
Magnesium
Magnesium is an essential mineral crucial to the body's function and wellbeing. Magnesium is a co-factor in over 300 enzymatic biochemical processes in the body helping to maintain normal functions. Each type of magnesium used for this product has slightly different functions and benefits. For example, most of the elemental magnesium is found in the magnesium Oxide and Citrate which are easily absorbed into the bloodstream. You can read more about what unique benefit each type of magnesium can bring in our blog post about mangesium types.
More details about Magnesium 6-1
What is Magnesium?

Description
Source of Nature Magnesium, a food supplement based on on 6 types of magnesium from natural sources.

What is Magnesium?
Magnesium helps to support bone health, heart health and even a positive mindset. Although we only need small amounts of magnesium relative to other nutrients, we must regularly replenish our stores, either from foods or magnesium supplements. Magnesium is an essential mineral and also an electrolyte, which means it has an electric charge that helps with many cellular functions in the body.
Superior Magnesium Formulation

Superior Magnesium Complex
Each source of magnesium selected for this product is molecularly bound to an organic or inorganic substance such as Threonic Acid or Taurine which has been selected for their symbiotic relationship and unique areas of benefit such as for sleep, exercise performance and more. Types of Magnesium included in this product are: Magnesium-Taurate, -L-Threonate, -Citrate, -Oxide, -Malate and -Bisglycinate for a superior blend that is also easier on the stomach compared to other products.
Pure, Safe and Vegan

Guaranteed Purity and Safety
All of our products are laboratory tested and verified as completely free from PAHs, Emodin, Heavy Metals(e.g. Cadmium, Mercury, Lead), Organic solvents e.g. toluene, methanol, diisopropylamine(DIPA), Allergens and Pesticides.

No Unwanted Additives
Absolutely no gluten, GMO, dextrose, preservatives, soy, lactose, histamines or other undesirable compounds.

100% Vegan
Our ingredients are derived from natural sources and are 100% vegan.
How to take Magnesium 6-1?

Suggested use
It is recommended to take 1-2 capsules per day.

Precautions
Food supplements should not be used as a substitute for a balanced diet. Do not exceed the recommended daily dose.

Keep out of the reach of little kids.

Store in a cool, dry place, protected from sunlight.
Premium Quality

Pure Magnesium and no unwanted substances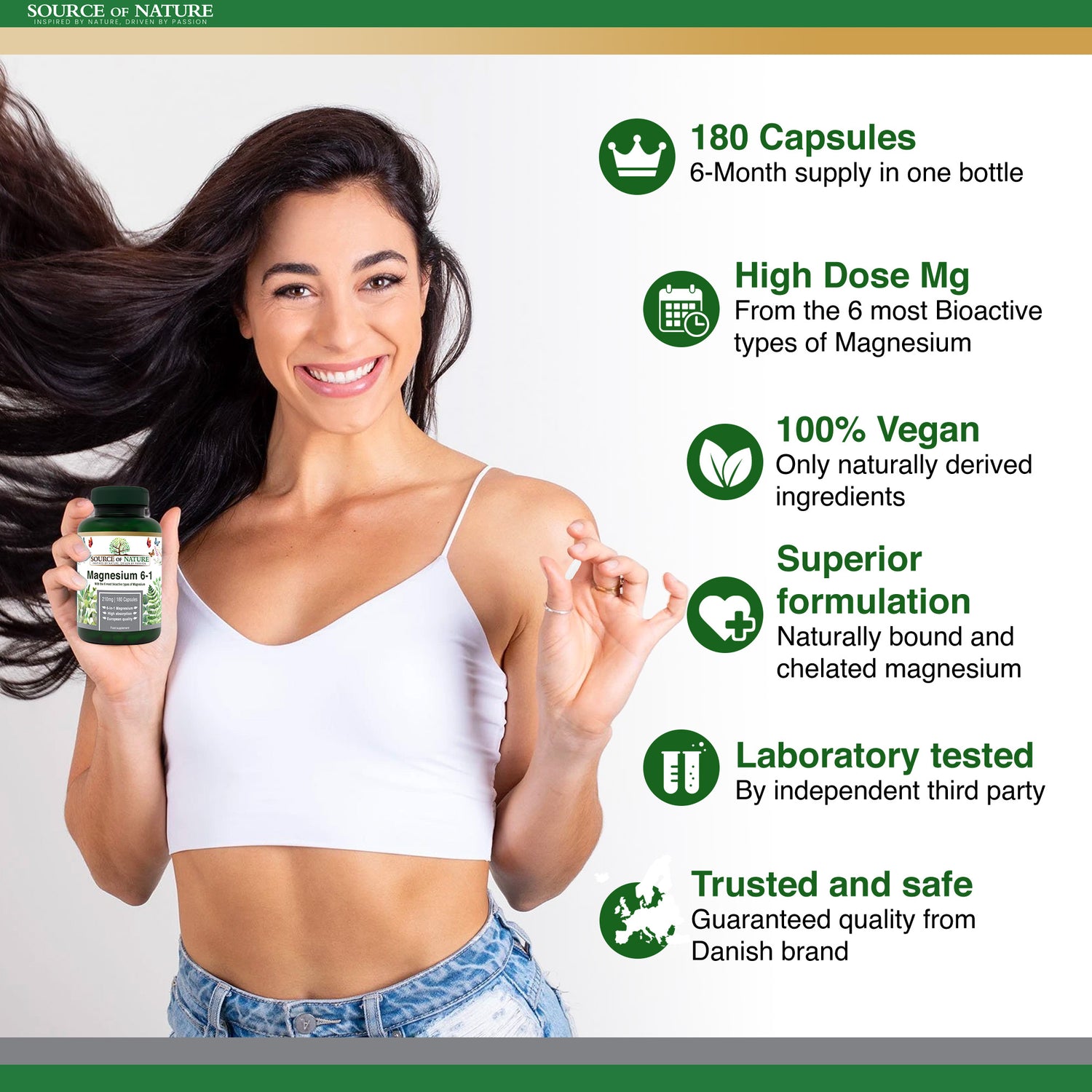 Superior Value
High quality ingredients, superior absorption, 180 capsules, high dose... Simply a great value product.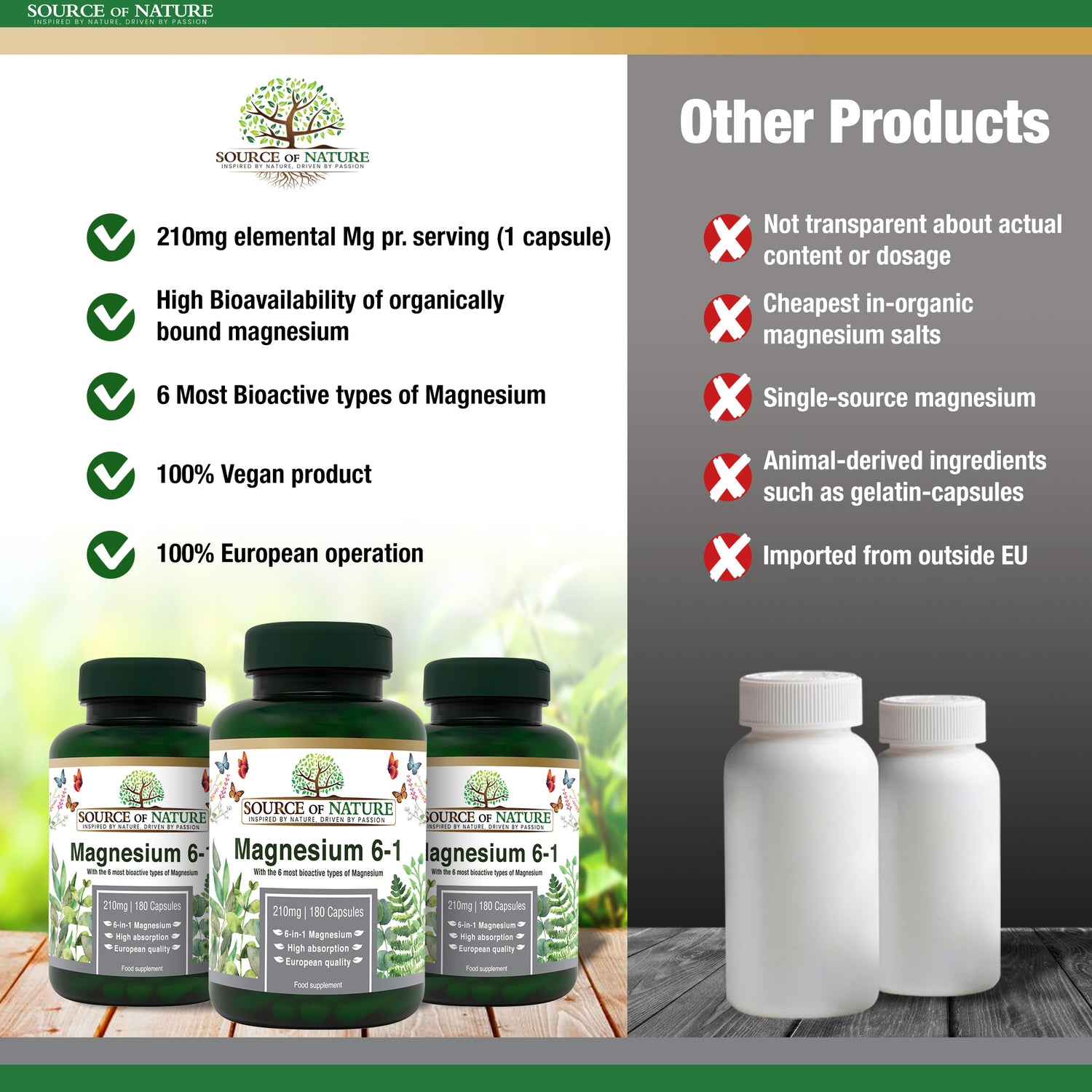 Beating the competition
No need to perform product research and background check on brands. Our product consistently beat the competition at every turn.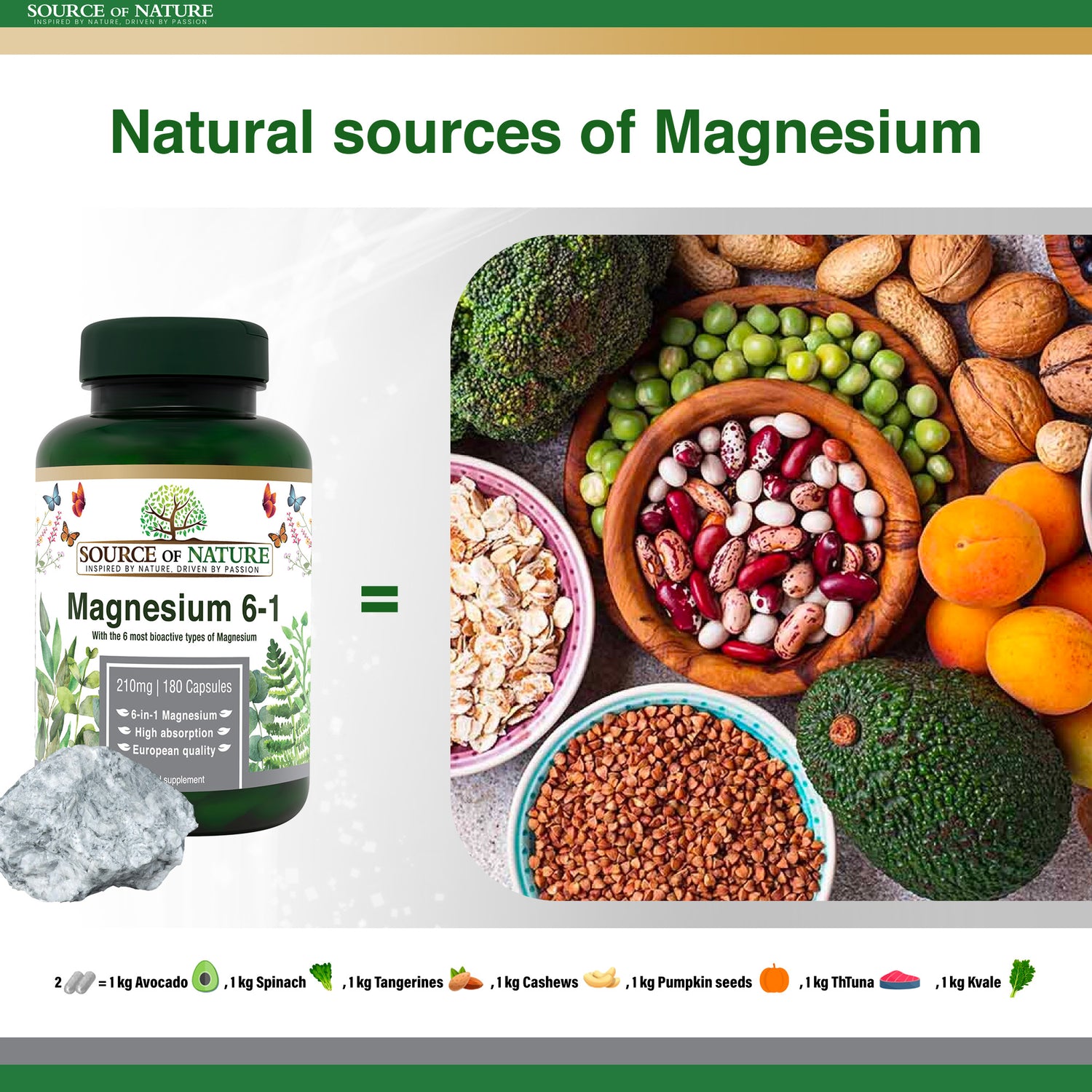 Why take Magnesium?
Studies have shown that many people may not consume enough magnesium. Why is this concerning? It is involved in over 300 cellular processes, including those responsible for protein synthesis and ATP production. Too little magnesium in the diet has been linked to several major health conditions.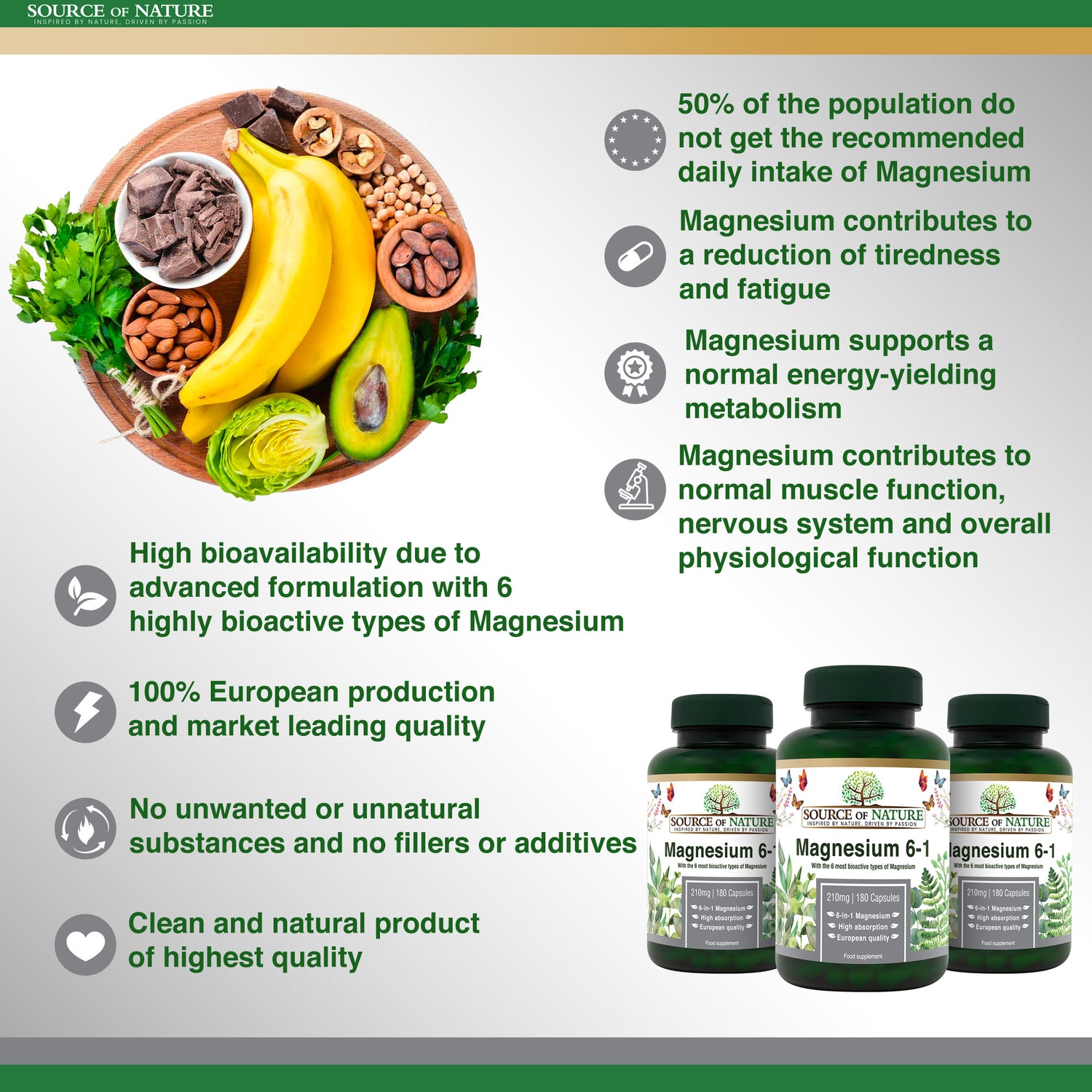 The obvious choice
Source of Nature® Magnesium 6-1 deliver on the areas that matter.
No nonsense
All of our products are produced without any unnatural or unwanted additives. Just as nature intended.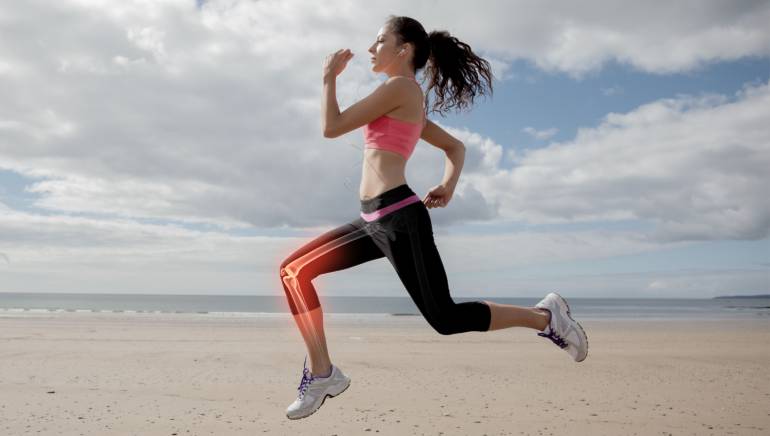 Want to learn more?
Read our blogpost on D3, K2 and Calcium:
To blogpost
Share with your friends and family
6-in-1 Magnesium 420mg | 180 Capsules | 3-Month Supply
beste Nahrungsergänzungsmittel
Leider musste ich sehr lange warten bis das Produkt wieder verfügbar war. Dieses 6-in 1 Magnesium ist für mich das beste was ich jemals gefunden habe. Es ist vegan und ohne irgendwelche unnützen Zusatzstoffe und in seinen Formen sehr gut vom Körper verwertbar .Jede hier verwendete Magnesium-Verbindung
hat einen gesundheitlichen positiven Effekt. Diese sind sehr wertvoll für meine Gesundheit. Ich bin konzentrierter, kann besser schlafen, habe kein Sodbrennen mehr und was ganz toll ist weniger Muskelverspannungen und Gelenkschmerzen. Es beruhigt die Nerven und meine leichten Herzrhythmusstörungen und vieles mehr. Für mich ist euer Produkt die Nr.1
Highly Recommended
I initially purchased and now take this product daily because, among the other forms, it includes Magnesium L-Threonate which has been shown to improve cognition, especially in older adults.
The taste
The capsules have an unpleasant taste of garlic.
Interessante Mischung an Magnesium
Da ich ohne Magnesiumkapseln nachts regelmäßig mit Wadenkrämpfen aufwache, nehme ich täglich ein solches Produkt ein. Meist ein Produkt mit Magnesiumglycinat, doch ich teste auch gerne andere Kombinationen.
- die Kapseln kamen sicher verpackt bei mir an, sie waren sicher verschlossen
- die Kapseln kommen von einem europäischen (dänischen) Hersteller
- die Kapseln sind normal groß und lassen sich mit etwas Wasser gut schlucken
- ich vertrage die Kapseln gut, es gibt keine unerwünschten Nebenwirkungen
- das Magnesium wirkt gut, einen wirklichen Unterschied zu Kapseln nur mit Magnesiumglycinat kann ich nicht feststellen
- schön ist, dass auf unnötige Inhaltsstoffe verzichtet wird
Für ein gutes Produkt vergebe ich vier Sterne