Regular price
€17,46 EUR
Sale price
€16,87 EUR
Unit price
per
Sale
Sold out
Share with your friends and family
View full details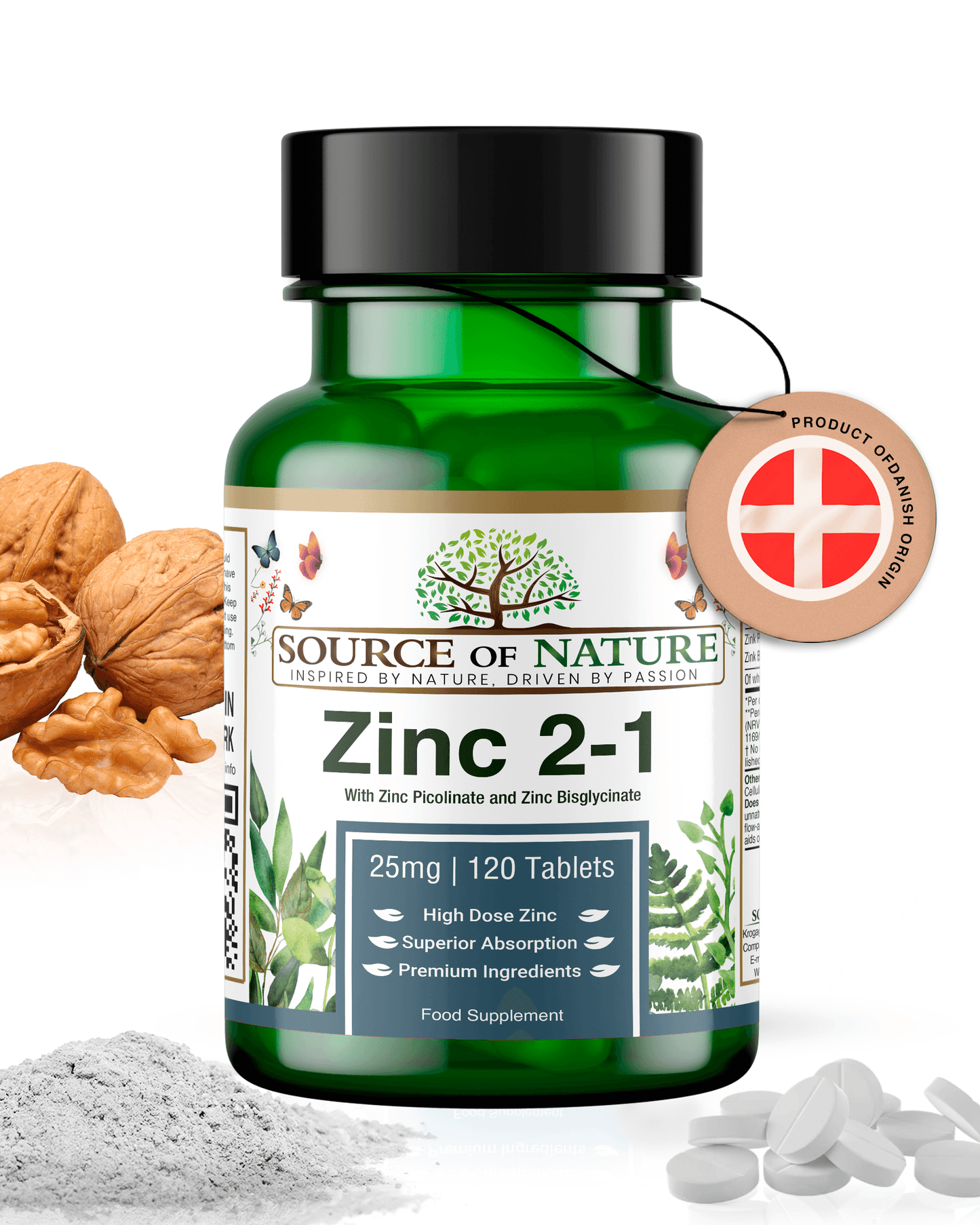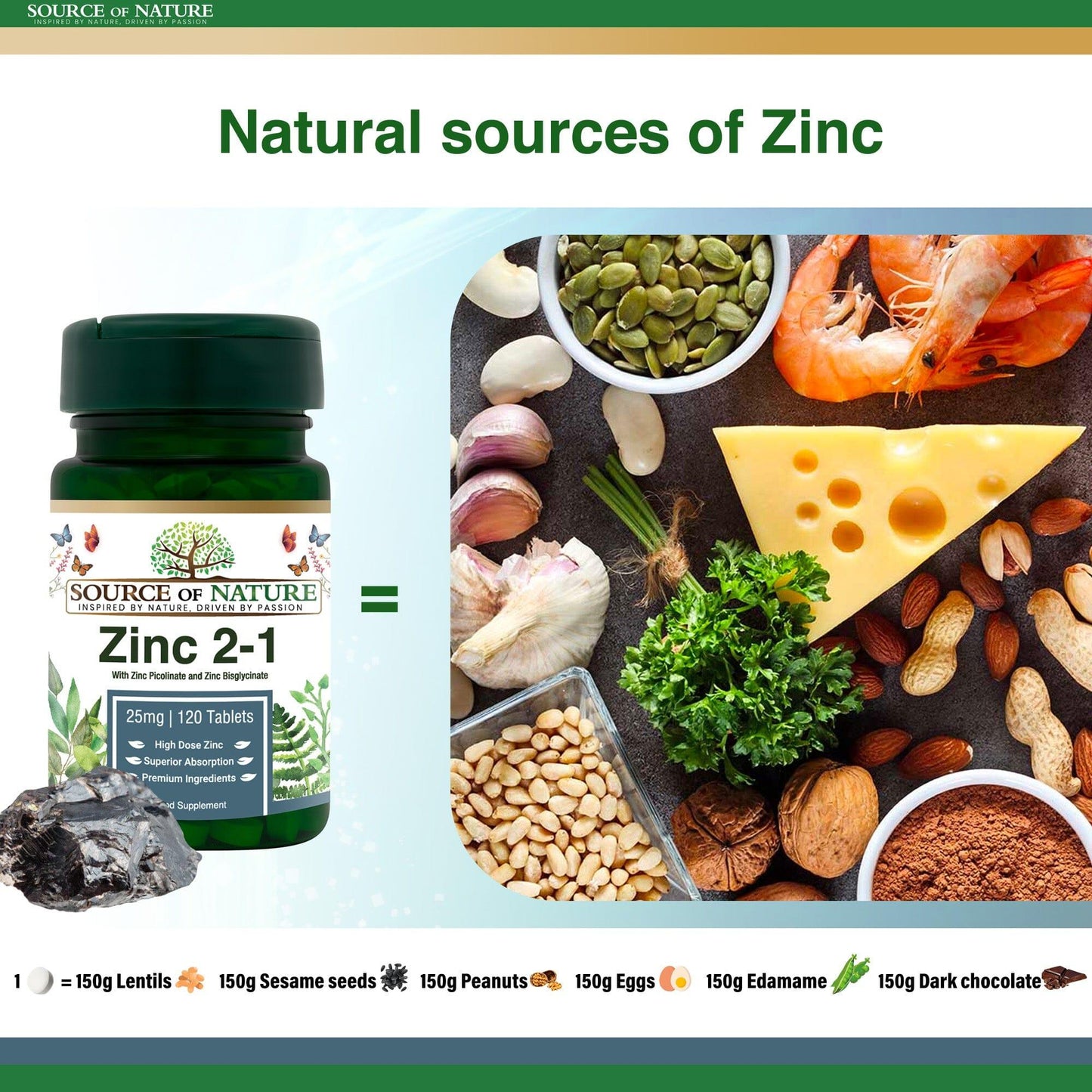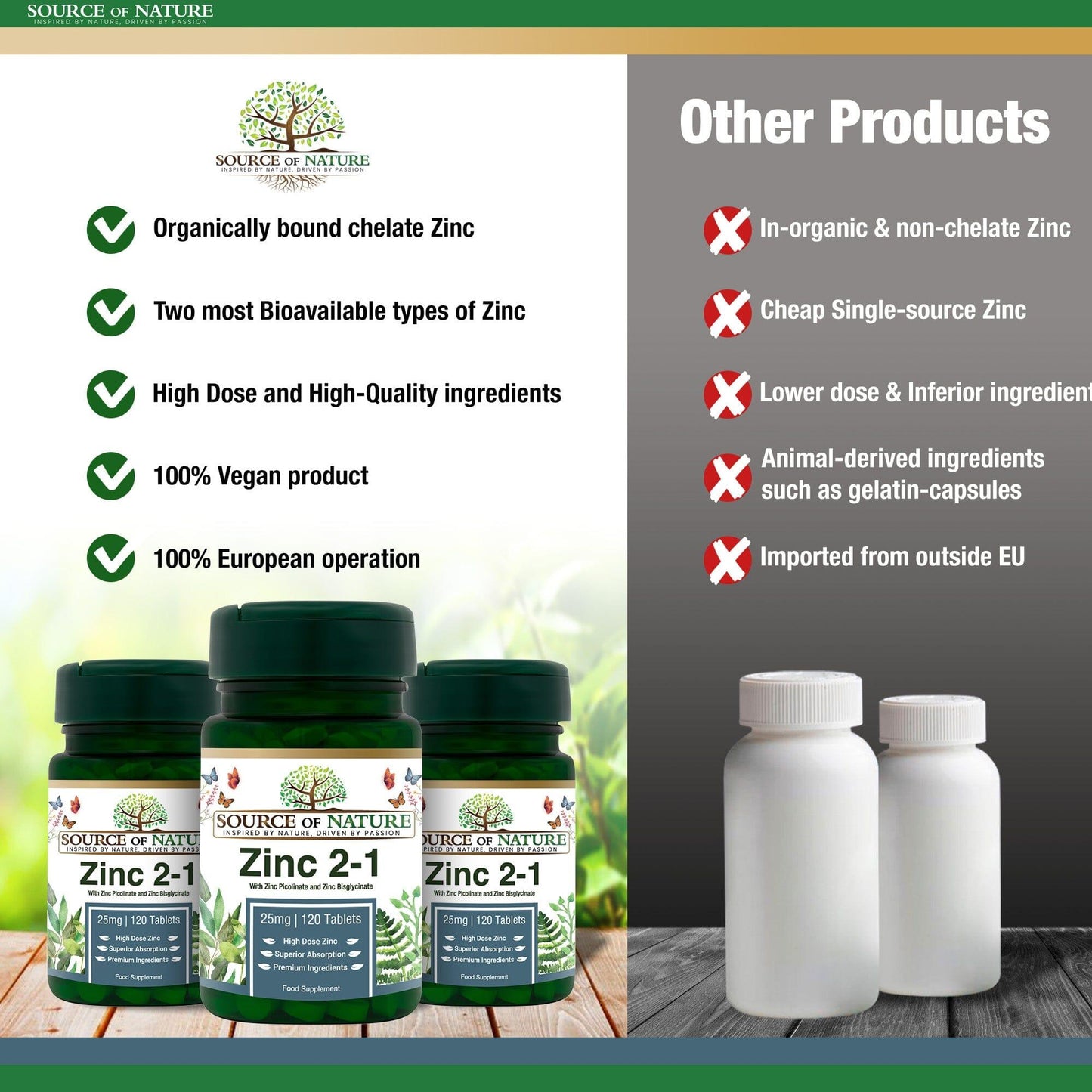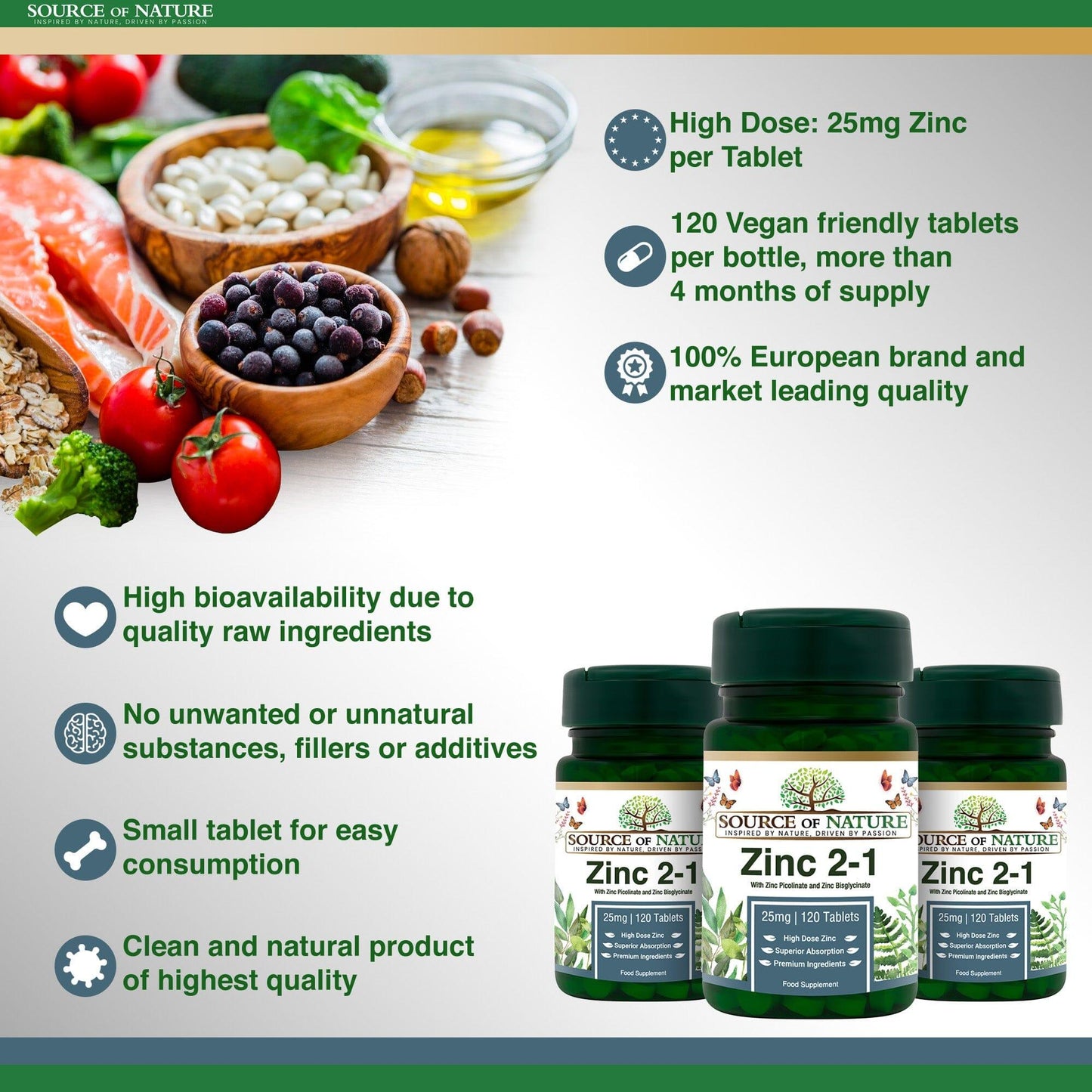 Facts about the product

120 Tablets with 25mg Each: Each tablet has a high dose of high-quality Zinc

100% Natural Product: The Zinc is obtained from high quality and natural sources

Highest Bioavailability: With the two most bioactive Zinc types, Zinc Picolinate and Zinc Bisglycinate

Suitable for Vegans: Our Zinc is vegan friendly and absolutely cruelty free

No Unnatural Additives: Laboratory tested and free from preservatives, fillers, heavy metals, PAH, emodin, allergens and pesticides
Zinc
Zinc is an essential trace-mineral crucial to the body's function and wellbeing. Zinc is a co-factor in over 300 enzymatic biochemical processes in the body helping to maintain normal functioning. Zinc Picolinate is particularly excellent in raising blood-plasma levels of zinc due to the molecular bond with the organic acid Picolinic Acid enabling it to use a different metabolic pathway than dietary zinc and appears to be more stable in your body. Zinc Bisglycinate, which is a zinc molecule which has bonded with two Glycine amino acid molecules, also show an ability to raise serum levels and sustain it for longer compared to other types of Zinc. Combining these individually effective types of zinc creates a product with superior efficacy and tolerability compared to competing products without the draw-backs inherent to single-source Zinc.
More details about Zinc 2-1
What is Zinc?

Description
Source of Nature Zink, a food supplement based on Zink from natural sources.

What is Zink?
Zinc is an essential mineral that plays many roles in the body, including supporting the immune system, wound healing, hormones, vision, skin, hair, bones and a range of other functions which makes it so important.
Premium ingredients

Highest Quality Ingredients
Each source of Zinc selected for this product is molecularly bound to an Organic or Amino acid which has been selected for their symbiotic relationship and unique metabolic pathways ensuring optimal absorption and unique benefits. This combination also makes the product much easier on the stomach compared to other Zinc products.
Pure, Safe and Vegan

Guaranteed Purity and Safety
All of our products are laboratory tested and verified as completely free from PAHs, Emodin, Heavy Metals(e.g. Cadmium, Mercury, Lead), Organic solvents e.g. toluene, methanol, diisopropylamine(DIPA), Allergens and Pesticides.

No Unwanted Additives
Absolutely no gluten, GMO, dextrose, preservatives, soy, lactose, histamines or other undesirable compounds.

100% Vegan
Our ingredients are derived from natural sources and are 100% vegan.
How to take Zinc 2-1?

Suggested use
It is recommended to take 1 tablet per day.

Precautions
Food supplements should not be used as a substitute for a balanced diet. Do not exceed the recommended daily dose.

Keep out of the reach of little kids.

Store in a cool, dry place, protected from sunlight.
Premium Quality

Premium combination of Zinc Picolinate and Zinc Bisglycinate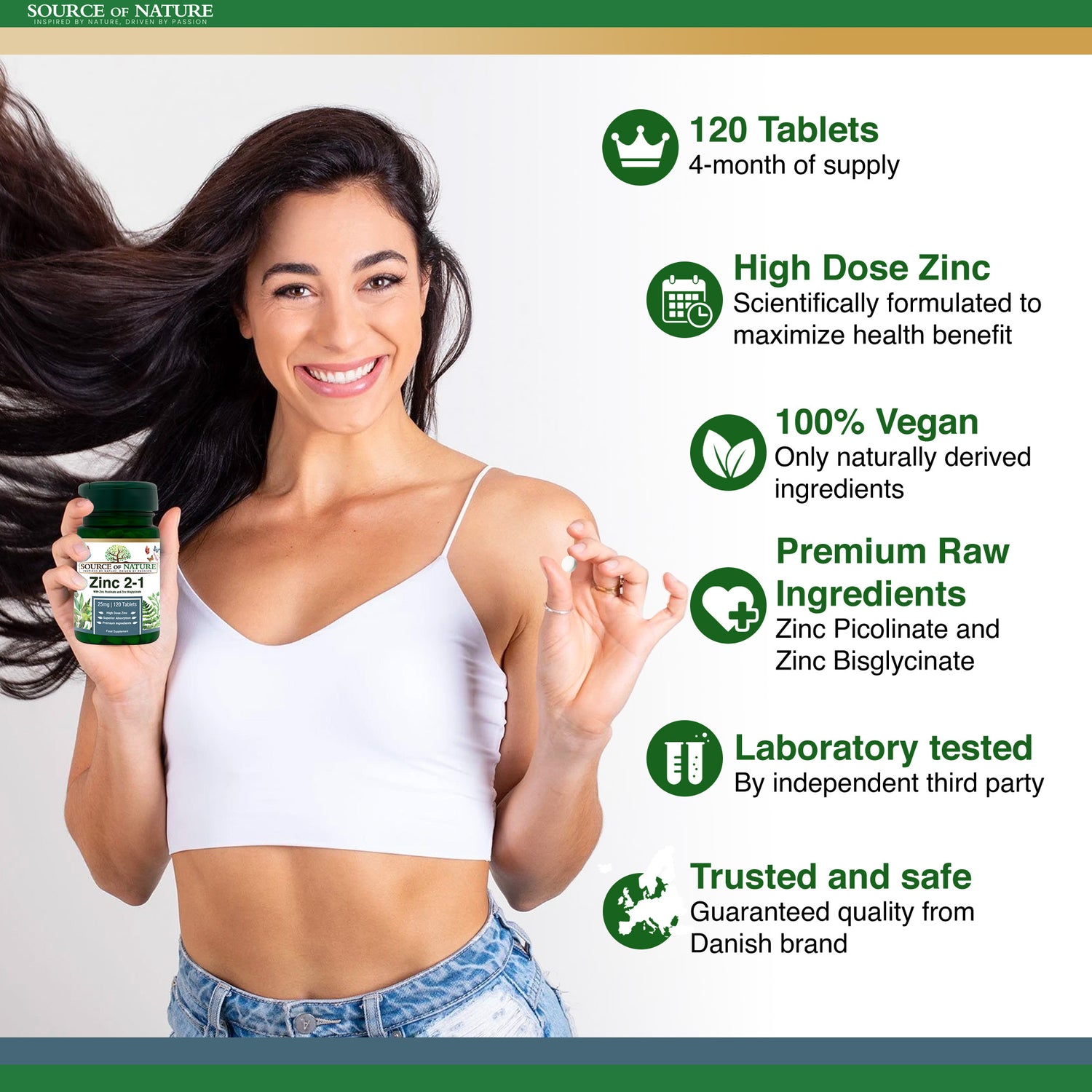 Superior Value
High quality ingredients, superior absorption, 120 tablets, high dose... Simply a great value product.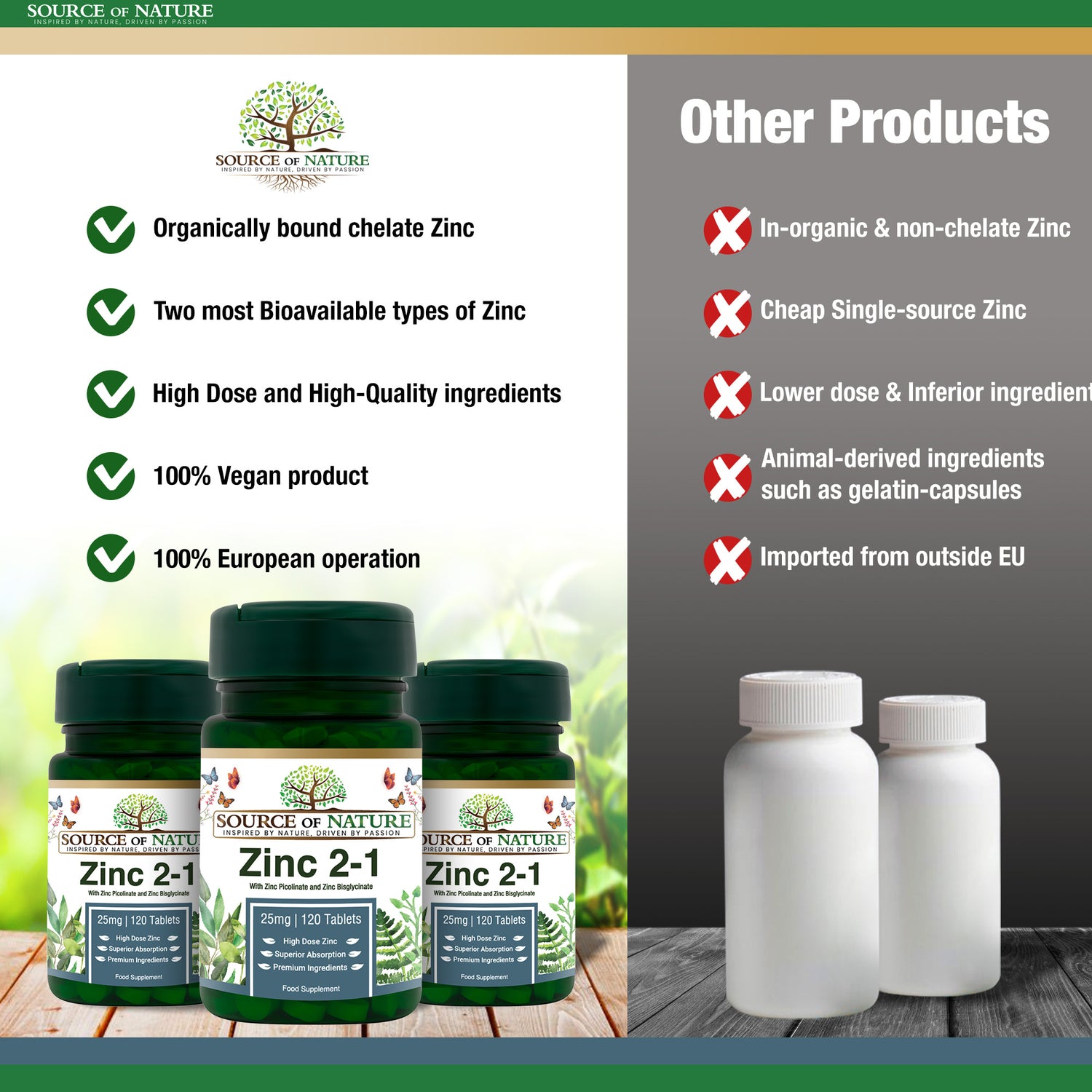 Beating the competition
No need to perform product research and background check on brands. Our product consistently beat the competition at every turn.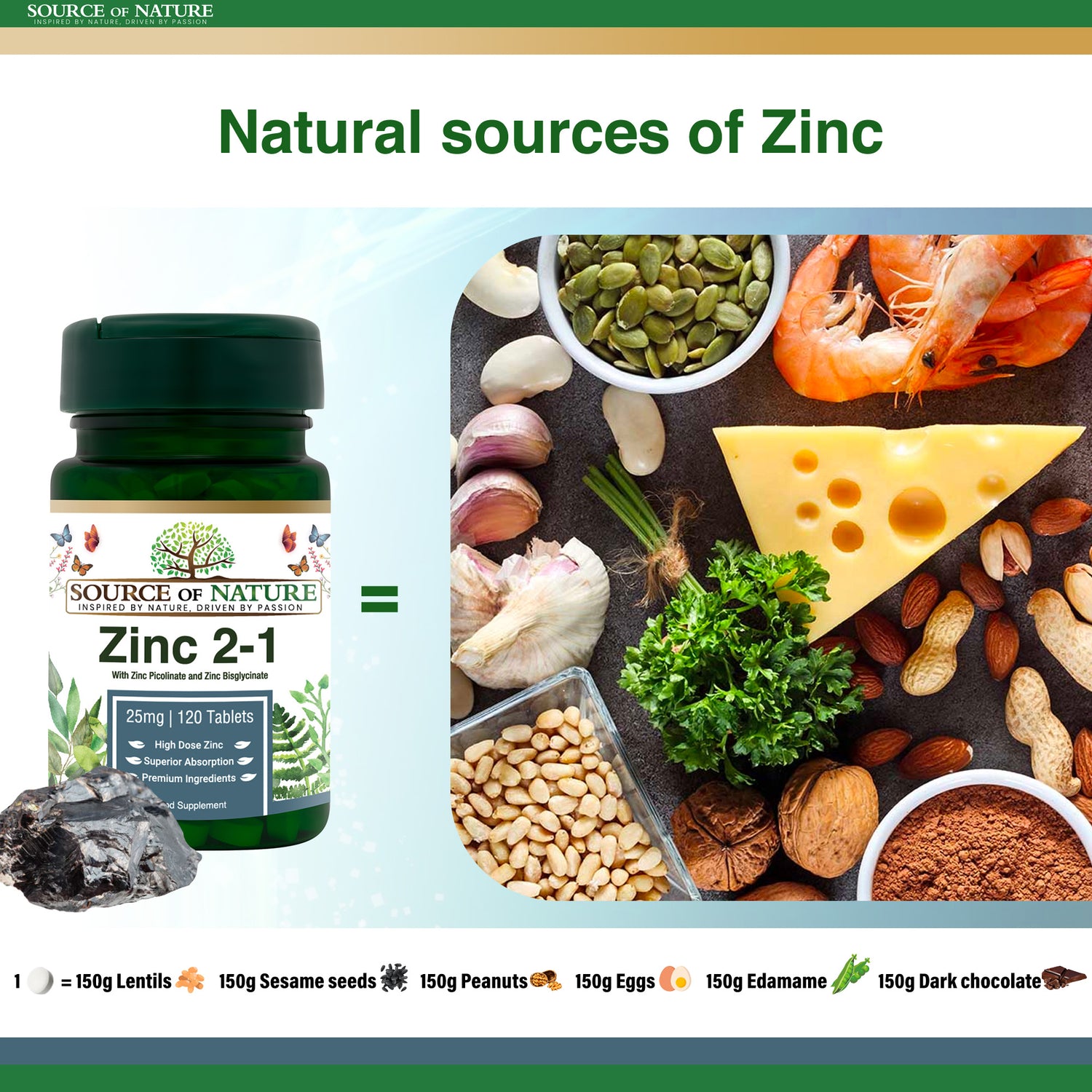 Why take Zinc?
Zinc is a vital trace element that is essential to the human body. It is responsible for over 300 enzymatic processes. Because it has so many different functions it is considered one of the most important elements to the normal functioning of the human body.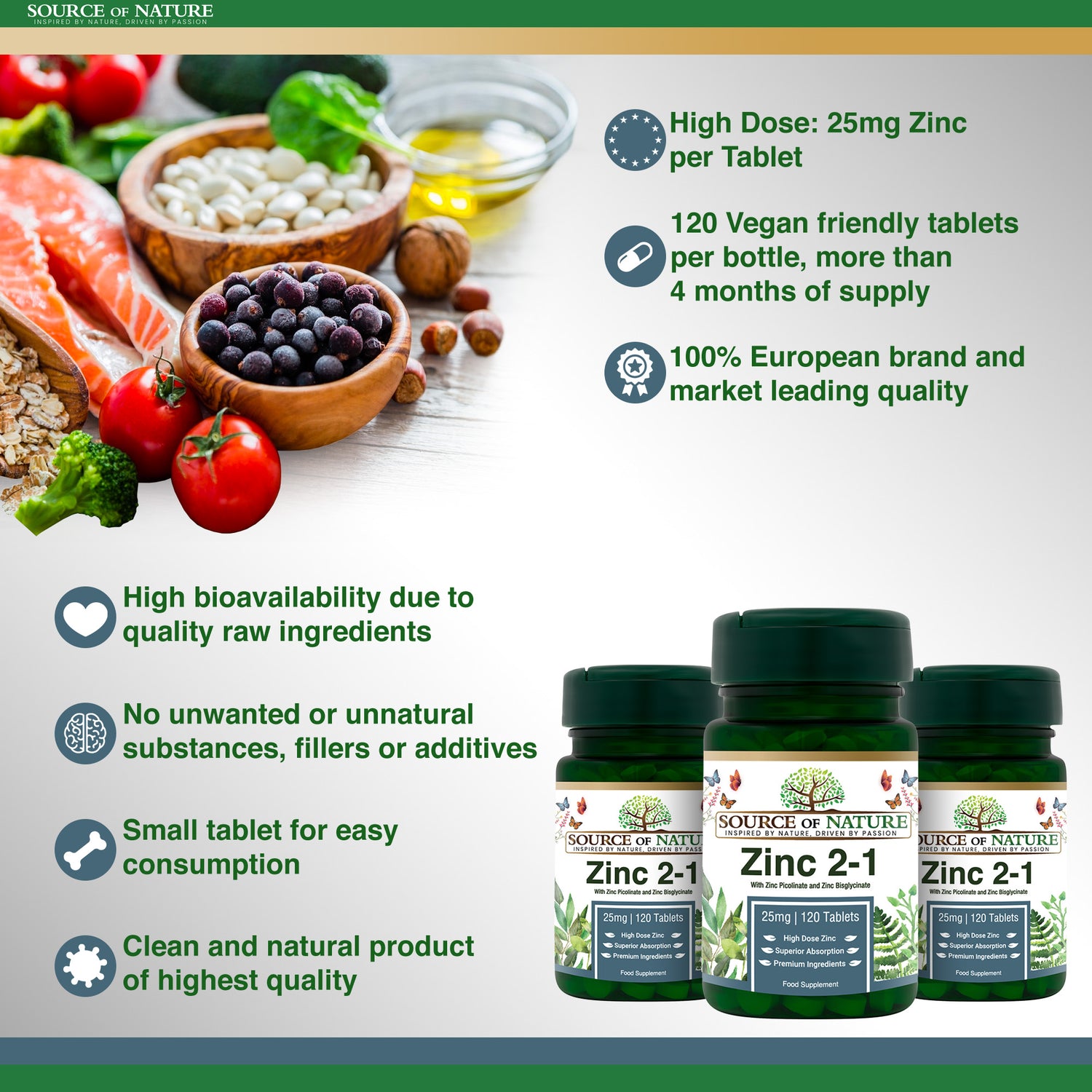 The obvious choice
Source of Nature® Zinc 2-1 deliver on the areas that matter.
No nonsense
All of our products are produced without any unnatural or unwanted additives. Just as nature intended.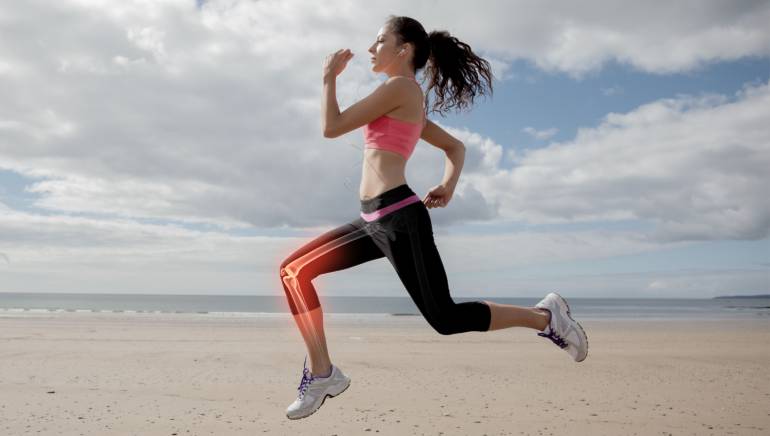 Share with your friends and family
First class product.
This Zinc combination is really a first class product. The tablets are very small and therefore very easy to take. The composition of the product is also cutting edge. From now on I will be ordering regularly from Source of Nature.
Best supplements
These are high quality, no nonsense supplements, exactly what I need for sport.
Natural and good
No added substances, just high quality zinc
High quality, fast delivery
Amazing product that combines the best of Zinc Picolinate and Zinc Bisglycinate!
Fast delivery as well!
Fast delivery and good service!
I wrote to this company to ask a question about their Zinc and they immediately answered all my questions. They know their stuff!